I have a friend with whom I sometimes talk through voice messages over WhatsApp. To be honest, she's kinda bad at it. I shall not call names, but she is cute, single and also part of the MARUG Media Team. Either way if you're reading this, ten for effort my dear. And let's be real here, aren't all our interactions with products and services in the future done through our voice?
Like Marvin Gaye would say, Voice is hot just like an oven and it finally gets the loving it needs. The days of search terms, search bars and recommended drop down menus are over and they make way for much more faster and intelligent voice applications that can be used on voice devices such as Amazon Echo and Google Home.
Epic growth
The numbers are staggering. It is expected that consumer demand for voice devices will generate $3.5 billion by 2021. Currently in the Amazon dominated market, 25% of the searches in the US are done through voice and 10% of the American households already have a digital voice assistant (DVA) like Amazon Echo and Google Home, a number of which authorities expect that it will rise to 20% by the end of this year. Yes, most of these dazzling figures are found outside of Europe, but it won't take long before we're infected by the ease of using such devices.
A voice assistant in your home
Why am I, and should you be so hyped about this concept? Well, some companies are just totally getting this. Like the company Trainline, a UK-based independent train ticket retailer who launched a voice app for Google assistant. It does more than simply doing a journey search within 10 seconds. Users can set their most common locations which the app can take into consideration when recommending departure times and nearest stations. Another company called Kayak, who launched its first Alexa product 2 years ago with search for flights, hotels, cars and flight tracking now added two updates: linking a user's Kayak account with Alexa so that she can answer custom questions such as "Is my flight on time?" and "When is my next trip?". These updates give Voice more purpose and adds a whole other dimension to it's functionality, which is the fact that it becomes interactive.
And this is exactly what Dutch companies can learn from! Take KLM, who launched Blue Dot, which is basically a voice application which helps you packing your bag: "Did you pack your passport?", yes. "Did you pack underwear?", yes. Unless you have some serious packing issues, it does not solve any major problems. Perhaps it is Albert Heijn who we should keep an eye on, who is planning to launch speak devices in their stores. All in all, we can say that the Dutch market is quite still in its experimental phase.
Alexa, your favorite sugar auntie
Obviously, it could also go terribly wrong when little toddlers see the Amazon Echo dot as some parent who will buy you ANYTHING you would ask for. Like this girl from Texas who bought a dollhouse and a bunch of sugar cookies through Alexa. When some news anchor reported about this phenomenon, viewers complained that their Alexa switched and ordered the same.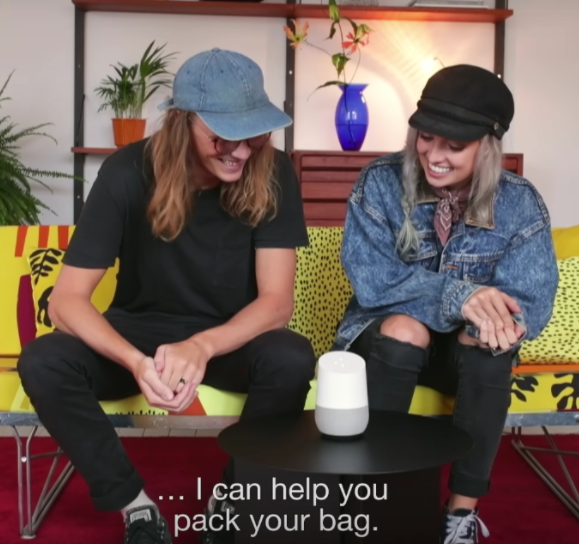 In the meantime, be aware that this marketing channel is learning and growing in a fast, but most importantly intelligent fashion. It has the ability to understand language and even accents, now the next challenge is to actually interact with users and designing conversation experiences.