Nowadays Instagram is (with over 600 million active users) one of the biggest social media platforms. To celebrate their 1 billion users Instagram introduced a new feature, called Instagram TV (IGTV). Previously our Instagram videos could not be longer then 60 seconds, but with this new feature this time has increased enormously. Many marketers have already discovered the new, improving feature and in today's blog I am going to show you how your company can also use IGTV as a booming marketing tool.
What is IGTV
First things first: what is IGTV and how does it work. Well, IGTV is a place for vertical, long form videos on Instagram, and it's available in both the native Instagram app and the new standalone IGTV app. IGTV makes it possible to upload videos with the length of maximum one hour. Your (potential) followers will always be able to watch these videos as they stay on IGTV and won't be removed after 24 hours, in contrast to the globally known Instagram stories. IGTV is Instagram's way of disrupting the traditional TV experience and updating it for a modern, mobile experience. At this moment the IGTV has 3 categories:
'For you' is a collection of videos that Instagram thinks you will like, made up from people you follow and Instagram's own machine learning.
'Following' is a collection of videos from all the people on Instagram that you're already following.
'Popular' features all of the trending videos on IGTV, most likely ranked by popularity.
What's new
IGTV is easily mixed up with YouTube, the two social platforms are indeed in a way alike, so why do we need another 'YouTube' and how does IGTV differ from YouTube? So, why should people (and companies) use IGTV? Well to give answer to the previous question: there are several reasons.
First off all, a research from Newcom shows that Instagram is the social media platform with the highest growth rate in the beginning of 2018. It has 4,1 million daily (Dutch) users.
Also, as also mentioned before, the videos on IGTV are vertical, whereas the videos on YouTube are (mostly) horizontal. The advantages of a vertical video are that it is actually really new, vertical videos as shown on SnapChat, Instagram Stories and Facebook Stories are used for ephemeral marketing. This makes the videos less professional. The fact that it makes the videos less professional makes that those videos are more accessible, so people are more likely to watch the video. The less professional 'air' around IGTV makes it also less necessary to spend a long time on editing a video.
Secondly, you can give a title and description to your video, this makes it easier for people to find you. You could also add the link from a website to the description of the video so people can immediately visit the website if they are interested by the video. And to make it even more easy to get views: you can link your video to (for example) a trending hashtag.
If your video makes it to the earlier mentioned 'popular' category you could easily get in touch with a new target group, because everyone gets in touch with your video.
Last but nog least: the fact that you are (going to be) an early adopter of IGTV shows a high innovation performance and is perfect for the reputation of your (innovating) company!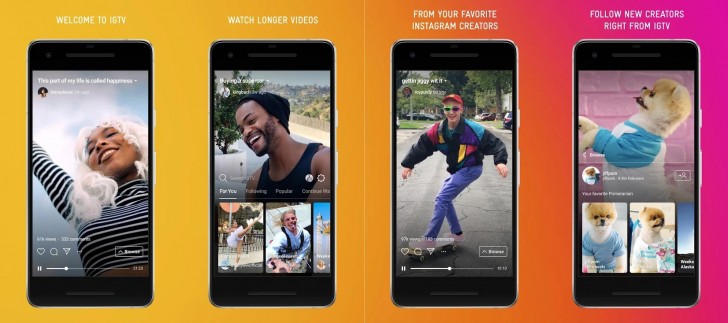 The amount of advantages that come along with using IGTV are extremely high. IGTV is a brand new platform where companies can really create a new kind of marketing. IGTV gives a lot of opportunities and I challenge you to experiment with this new amazing feature!
The MARUG Media Team is looking for new members! Are you interested? Contact Julia Weekenstro via intern@marug.nl or +316 51871054.