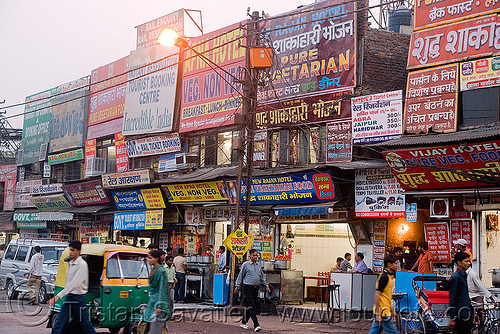 ''Keep it simple, stupid''! Who has not heard from this world-wide known sentence? Probably you did. Back in the sixties, the U.S. Navy Seals invented and adopted this strategy. Why? The answer is as simple as its abridgement KISS. The vast majority of things work best if they are kept short and simple, rather than difficult and complicated. Since then, the short and simple principle has been used by many different backgrounds and purposes. Nowadays it is still very useful in the world of marketing and is, perhaps unknowingly, also widely used in India.
India is a country in South Asia and is currently the second-largest population on earth with 1.3 billion inhabitants. By 2030, India will pass China in terms of population numbers with the dizzying number of 1.5 billion people, nearly a fifth of the world's population. The capital is New Delhi, a never-sleeping city with over 18 million inhabitants. Indeed, more than the total number of people in The Netherlands! Quite a lot, right? Probably, now you're curiously waiting for a short description of the versatile country.. Well, trying to define this eccentric country including all its different cultures and habits is probably as hard as to explain Einstein's Theory of General Relativity… Honestly, I still have no answer to that question..
Easier topic to talk about is the abundance of (small-scale) marketing campaigns visible throughout the whole country. When you walk on the overwhelming and boisterous Indian streets, you will undoubtedly get confronted with the countless numbers of marketing ads, mostly from small shops… It seems like every citizen tries to sell you something. ''Hey, tuktuk?!'', ''Hey, sir, new phone?'' , ''Hello my friend! How are you? Do you need new shoes?''. The ads you will get confronted with are about almost everything, in mainly two languages: Hindi and English. However, most of the shops are about selling food/drinks, cosmetics, fashion and electronics. Sometimes, their marketing messages are hidden somewhere behind the messy overhanging wires.. That is sad, right? Well, Indians would probably say: ''nah, that is India''. Their ability to put things into perspective is admirable and sometimes inspiring;). Back to the topic of today, the power of simple billboard ads.
According to recent research of the Erasmus University, billboard ads will create significantly more brain activity once they evoke positive emotions and once they are…. Uncomplicated and simple! Now I hear you thinking; ''but hey, is it really that easy?'' Indeed, it is. Because it should be. The vast majority of the marketers acknowledge the power of simple but powerful ads. OK, clear, but how good are the ads of small businesses in India, then? In general, quite good. Probably forced due a lack of space and/or money, ads look quite clear and to the point. The majority of the ads contain at least a business logo or business name, supporting contact information, and, last but not least, supporting visual elements like a photo of the company or the owner itself. Studies have shown that use of human faces in ads result in trust, responsibility and reliability. So? The conclusion of today is as simple as useful: you do not need thousands of dollars in order to make good ads. Bear in mind the good-old KISS-principle and you are already on the way to the right direction;).